The Manlius YMCA features three indoor tennis courts and program offerings for all ages and abilities. We have classes, clinics, a ball machine, drills, skill level evaluations, leagues, tournaments, and much more!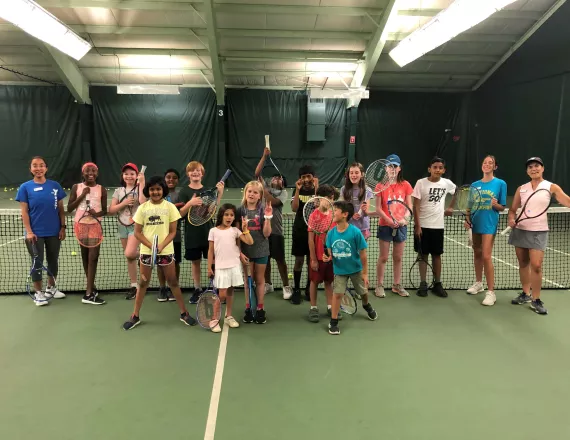 Youth Tennis Programs: 
Our classes are structured after the USTA (United States Tennis Association) program model. Participants will be rewarded with progress cards to end a session and continue improving their game.  Browse Youth Programs
Red Ball Stage: Start your child's tennis career here! This class is designed to develop eye-hand coordination and listening skills. It emphasizes group interaction and uses age-appropriate equipment. Ages 3-5 and 6-8 

Orange Ball Stage: This class builds racquet skills and basic tennis fundamentals including ground strokes, volley and serve through a variety of activities. Children will learn to rally with each other on a 60-foot court. Ages 5-6 and 7-9 

Green Ball Stage: This class completes the transition to full court play (78-foot court) using green dot balls that bounce slightly lower and slower than the standard yellow tennis balls. A greater emphasis is placed on playing singles and doubles games. Ages 7-9, 9-12 and 12-17 

Junior: This program is for intermediate players or Green Ball Stage graduates who want to raise their level of play, while focusing on consistency, ball placement, improved serves and match strategy. Ages 12-17 

Advanced Junior: This program is designed for the intermediate/high school level player ages 12 and up who have completed the junior class stage or who have had previous competitive playing experience. Drill and match play will be incorporated into this program. 
F.A.S.T (Fun Adult Starter Tennis): 
Looking to get started with tennis? No equipment needed! Just come and watch as you grow into a tennis player. Class registration is offered online for 8-week sessions.  
Tennis Lessons: 
Looking to improve your skills and technique? Sign up for our private, semi-private, or group lessons. Teachers, coaches, and former players, our tennis staff bring years of experience to the Y. Whether you're just starting your tennis career or have been playing for years, our staff can help you grow and improve your game. 
Adult Drills: 
These are amazing opportunities to develop your game while having a good time and getting a great work out in. Ages 18+. Please call ahead to reserve your space up to 7 days in advance. Drills will be limited to one hour if only two participants attend, and half an hour if only one person attends. 
Adult Intro Tennis Leagues: 
The Y offers robust introductory programming and leagues for adults:
Novice Green Class
Novice Doubles Class
Fundamental Doubles Ball Machine Drills
T-League
3.0 League
Operating Hours: 
Monday - Friday from 5:30am - 8:00pm
Saturday from 7:00am - 6:00pm
Sunday from 8:00am - 1:00pm
Court Reservations: 
During our operating hours there will be someone available to take your call and take court reservations as normal. If our representative is busy when you do call, whether they are on another line or interacting with a member, please leave a message and we will get back to you as soon as possible. Or, call back within 5 to 10 minutes and we should be able to answer! 
When making a reservation, please note that we require payment prior to arriving at the Y. When calling for a reservation, you must have the names of all players, and those players all must have a payment method on file with the Y. If you do not have players names but want to make your reservation you will have to pay for the entire court time. If you and your party are going to play regularly, we can add a payment method to your account easily over the phone. 
What happens if I have to cancel my court time? Can I get refunded? If you have prepaid and you must cancel, we can issue a system credit which can be used for future transactions at the YMCA. 

Can I bring a guest? Yes, but they will be charged a $10 guest fee when they arrive at the Y. This is the only transaction that should occur at the desk on the day of play. If you are a YMCA member but you have suspended your membership payments, you will also be charged the $10 guest fee. 
The best way to connect with Manlius Staff is via email:
Facility Regulations:
Please present your YMCA membership card at the member services desk upon arrival. 

All tennis fees are collected at the time of reservation. Fees must be paid in full prior to entering the court. 

Please refrain from taking children onto the courts while playing. 

Please provide 24-hour notice when canceling a court. 

Lessons will not be made-up or rescheduled unless six (6) hours' notice of cancellation is provided. 

There are no refunds, make-ups, or credits for missed classes. 

The YMCA has the right to make changes to policies, procedures and/or fees at any time.