We offer a range of programs, classes, equipment, and guidance allowing you to exercise, gain strength and increase flexibility without putting excess strain on your joints and muscles.
GET STARTED
We want to help you gain more strength and independence, starting now.
Walk With Ease
The YMCA of Central New York is proud to offer the Arthritis Foundation Walk with Ease Program. Walk with Ease is a six-week group exercise program that can reduce pain and improve overall health. Learn how to walk safely and comfortably, while improving your flexibility, strength, and stamina! If you can be on your feet for 10 minutes without increased pain, you can have success with Walk with Ease.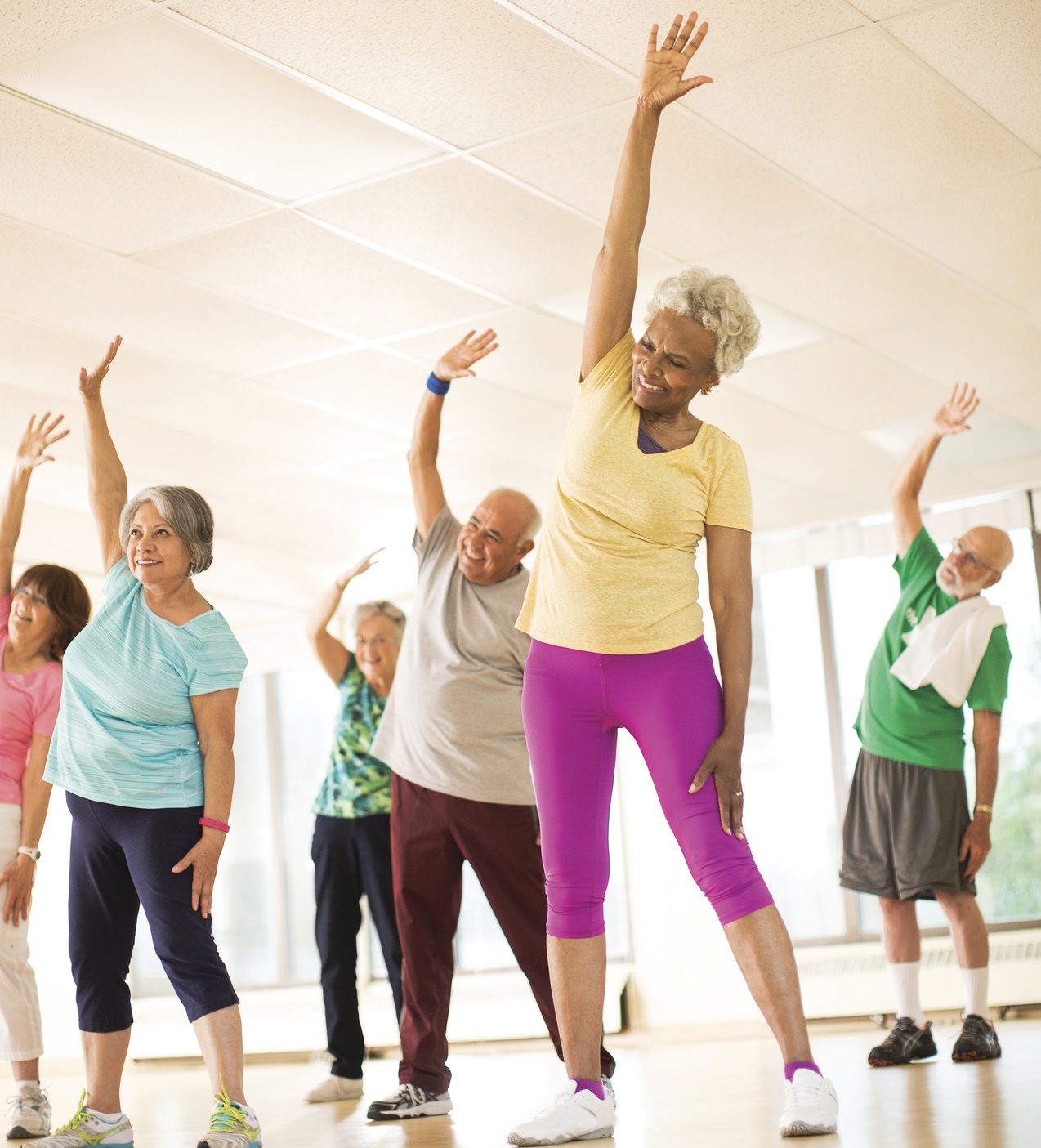 To learn more, complete this interest form to be contacted by a Healthy Living Team Member.
Enhance®Fitness Arthritis Management
Treating Arthritis through Smiles, Fun and Friendships

Enhance®Fitness is a proven community-based senior fitness and arthritis management program. Its purpose is to help older adults become more active, energized, and empowered for independent living.

EnhanceFitness has been nationally recognized by the US Centers for Disease Control, the US Department of Health and Human Services, the US Administration on Aging and the National Council on Aging.

It offers low-impact exercise classes that are safe and challenging for older adults of all fitness levels. Exercises focus on increasing cardiovascular endurance, strength, balance and flexibility - all of which can reduce arthritis symptoms.

Most importantly, EnhanceFitness is fun. Classes are held in a relaxed atmosphere that promotes smiles fun, laughter and friendships. Participants keep coming back and encouraging each other to stay healthy.
To learn more, complete this interest form to be contacted by a Healthy Living Team Member.
What you'll get through EnhanceFitness
Certified instructor with special training to bring out your best
Five-minute warm-up to get the blood flowing to the muscles
20-minute aerobic workout to get you moving, or a walking workout to lively music
Five-minute cool-down
20-minute strength training workout with soft ankle or wrist weights
10-minute stretching workout to keep muscles flexible
Multiple balance exercises
Lots of opportunities to socialize and make new friends
You'll feel welcome, whether you have arthritis or not
GROUP FITNESS CLASSES
YOGA
Joining the mind, body and spirit together, yoga incorporates nurturing movement into your routine safely and effectively. Training includes: mental focus, balance, strength, coordination, and flexibility.
Yoga class styles available:
Chair Yoga
Gentle Yoga (more supported and seated poses)
Yoga 
Power Yoga

FLEX & BALANCE
This class focuses on increasing your range of motion and improving your balance. Release muscular tension with stretching exercises and increasing your awareness of a healthy posture with balancing challenges. Options available for all fitness levels.

PILATES
A mat-based workout designed to activate deep muscles while balancing the strength and flexibility of all muscle groups. Controlled movements are used to focus on proper alignment to streamline and improve posture. Options available for all fitness levels.
CHAIR FOREVER FIT
A low-intensity, low-impact class that uses a chair to work on balance, strength, mobility, and coordination. Options available for all fitness levels.
FOREVER FIT
A low-impact class focusing on joint stability, range of motion, posture, and balance. Perform exercises and movements to improve mobility and the functional fitness needed to complete everyday tasks. Options available for all fitness levels.
FOREVER FIT PLUS
A low-impact, mixed-intensity, full-body workout designed to improve strength by combining aerobic, flexibility, and endurance exercises. Movements and exercises may include equipment. Options available for all fitness levels.
ZUMBA GOLD
A low-intensity Zumba class that builds cardiovascular health. Strengthen your muscles with traditional Zumba dance moves performed at a slower pace or with modifications. Led by a Zumba-certified instructor. Options available for all fitness levels.

NIA
This class uses a combination of dance, martial arts, and yoga inspired movements to give you a full body workout. Utilizing a system of 52 easy to follow moves this class aims to calm the mind and energize the body. Led by a NIA certified instructor. Options available for all fitness levels.
AQUATICS CLASSES
SHALLOW WATER FITNESS
Classes are conducted in the shallow end of the lap pool and offer great mobility with very little impact. The water helps support the weight of your body, lessening the compression on joints from the spine to the feet. Movement in the water offers resistance and builds as the movements become more dynamic and vigorous.
Shallow Class types available:
Walking and running water classes
Zumba and choreographed dance
Cardiovascular-only training
Strength-only training
Boxing
Boot-camp combining strength and cardio
DEEP WATER FITNESS
Exercise in the deep area of the pool offers a unique physical experience. The body is suspended in the water, creating a non-impact environment and healthy traction for your joints, from the neck to the feet. Suspended with flotation belts, movements go through full range of motion with a focus on strength, cardiovascular benefits, or both.
Deep Water class types available:
Dynamic strength
Core-focused strength
Hydro Running
Cardiovascular Training
THERAPY POOL CLASSES
The therapy pool is heated, improving circulation and nurturing the muscles and joints. A warm pool allows for slower movement without cooling the body's core. Classes in this environment can achieve large range of motion movements with precision and mindfulness.
Therapy Pool Class Types:
Yoga
Pi Yo Chi
Arthritis-specific
Flexibility Training
Dynamic Strength
Balance Training
Joint Action