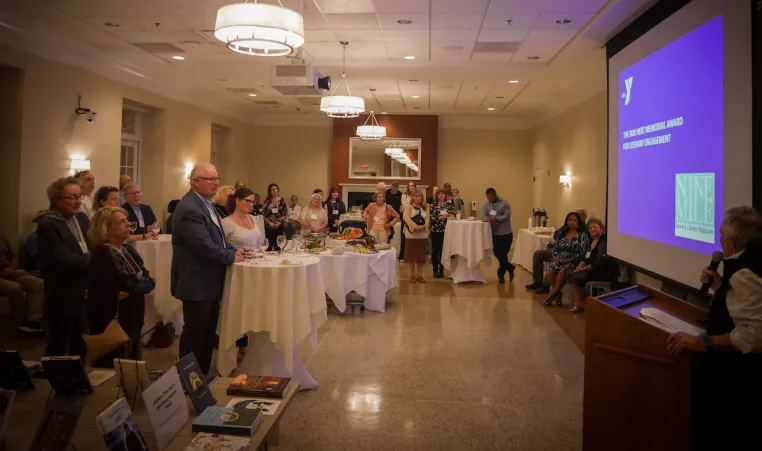 Each year, the YMCA's Downtown Writers Center recognizes the best books published by CNY authors through the CNY Book Awards. The 2022 awards were presented on Thursday, October 5 at the CNY Philanthropy Center Ballroom.
The 2022 CNY Book Award for Poetry was awarded to Mary Gilliland, for her book The Devil's Fools. Finalists were Caroline Manring, for Ceruleana, David Weiss and for No One Sleeps Tonight; semifinalists were Karl Parker, for Human Abstract, Patrick Williams for Manual Random Hill, and Martin Willitts, Jr., for All Wars are the Same War.
The 2022 CNY Book Award for Children's Books was awarded to Susan Keeter, with Anamboba Sunday and Abamah Rita, for Sunday's Wheels. The runner-up was Dorrie Sutton, for Kirk Park Kids.
The 2022 CNY Book Award for Fiction was awarded to Virgie Townsend, for Because We Were Christian Girls. Finalists were Frank Martorana, for Where Waters Run North, and David Grannis Moore, for Harpies.
The 2022 CNY Book Award for Nonfiction was awarded to Douglas Armstrong, for The Archaeology of Harriet Tubman's Life in Freedom. Finalists were Sorayya Khan, for We Take Out Cities With Us, Mark Monmonier, for Clock and Compass: How John Byron Plato Gave Farmers a Real Address, and Edward Pitts, for Beaver River Country: An Adirondack History.
And finally, the 2022 Bob Herz Memorial Award for Literary Engagement was awarded to Robert Colley, in recognition of his founding of the journal Stone Canoe and Standing Stone Books, and a lifetime of volunteerism and support for the arts in CNY and beyond.
Congratulations to all of the winners and to all nominees! You can learn more and nominate books for the 2023 Awards at ymcacny.org/cny-book-awards