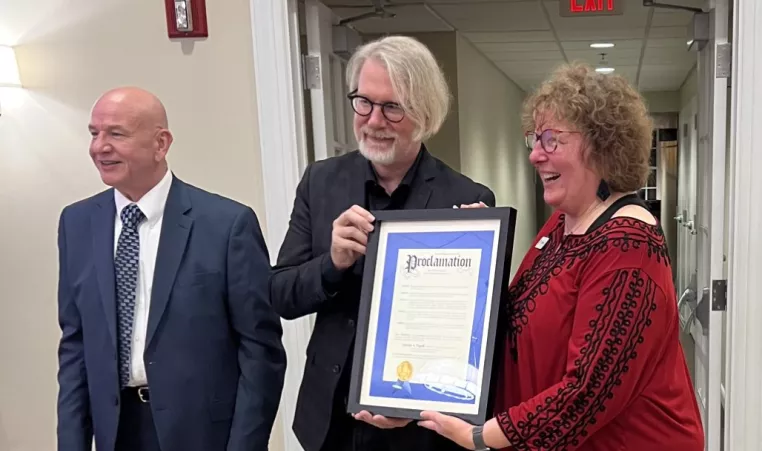 The YMCA of Central New York's Downtown Writers Center (DWC) held their annual CNY Book Awards event on September 29th at the CNY Philanthropy Center. The event, honoring books published by CNY authors in 2021, returned in-person after a two-year hiatus.
Nine Mile Press also presented the annual CNY Book Award for Significant Contributions to the Art of Writing to Stephen Butler of CNY Arts.
Mr. Butler also read a proclamation from County Executive Ryan McMahon, naming the DWC's workshops coordinator, Georgia Popoff, as the next Onondaga County Poet Laureate, a position she will hold for the next two years. Popoff has been with the DWC since its founding in 2000.
This year's Awards were sponsored by Upstate Golisano Children's Hospital, Nine Mile Press, and Vita DeMarchi. Nominations for next year's awards will be accepted until 12/31/2022. More information about the YMCA CNY Book Awards can be found at: https://ymcacny.org/cny-book-awards
Read the article from Syracuse.com
Awards were offered in Fiction, Nonfiction, Children's Books, and Poetry.
CNY BOOK AWARD FOR CHILDREN'S BOOKS, sponsored by Upstate Golisano Children's Hospital
Winner: The Hedgehog of Oz, by Cory Leonardo
Runner-Up: Fast Break, by David Aro
Judge: Ona Gritz
CNY BOOK AWARD FOR NONFICTION 
Winner: Exploring Poetry of Presence, by Gloria Heffernan
Runner-Up: A Stranger Killed Katy, by William D. LaRue
Judge: Derek Pollard
CNY BOOK AWARD FOR FICTION, sponsored by Vita DeMarchi
Winner: We Two Alone, by Jack Wang
Runner-Up: How Not to Drown, by Jaimee Wriston
Judge: Steven Huff
CNY BOOK AWARD FOR POETRY
Winner: Liar, by Jessica Cuello
Finalists:
Feral Ornaments, by Charlie Green
Would We Still Be, by James Henry Knippen
Little Mirror, by David Weiss
Judge: Kathleen Aguero