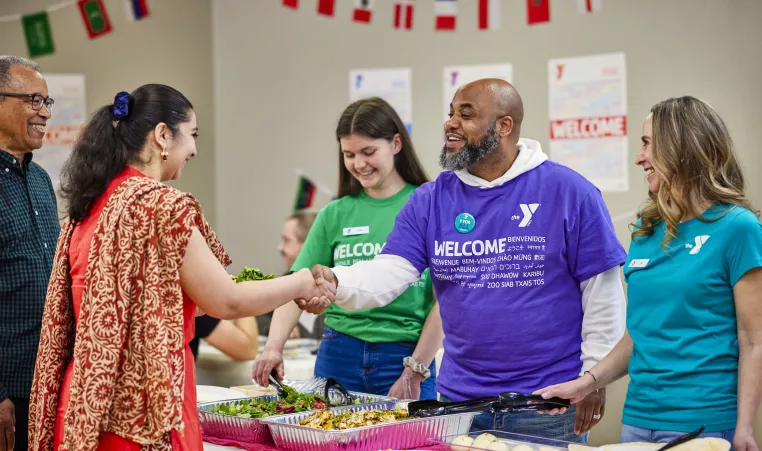 The YMCA of Central New York is excited to be involved in a nationwide movement to welcome immigrants and newcomers to our communities known as Welcoming Week.  
Welcoming Week is a time to celebrate the values that unite us and to make our community more welcoming to newcomers and to everyone who calls Central New York home. Join us at free events across CNY this September and throughout the Fall!  
ASSOCIATION-WIDE 
September 8 - 16
Food Drive
All of our branches are working together for a food drive during Welcoming Week to support the Blessing Box food pantry. Shelf-stable foods like rice and canned goods are always welcome, but please check our list of culturally-supportive foods. Thank you for donating! 
Donations will be taken to the Blessing Box food pantry by YMCA of Central New York Staff on Sunday, September 17.   
September 8 - 17
World Maps
Leave your mark on world maps displayed at each of our branches to create a collaborative portrait of the many places we come from. Please visit any of our Welcome Centers to learn more about how to participate.  
---
NORTHWEST FAMILY BRANCH
September 11 - September 15
Coffee from Around the World
10:00 am - 11:00 am
Taste special coffees and teas from around the world! From Monday, September 11 through Friday, September 15, we'll be serving rotating coffees and teas in the Northwest branch lobby. Stop by and try Vietnamese, Turkish, and Korean Sweet coffee, or Yerba matte (Indigenous South America) and Kava (Tonga/Polynesia) teas. Free to members while supplies last.  
September 11 - September 15
Child Watch: Welcoming Week Themed Crafts
Kids in Child Watch will have fun and learn about crafts and sports from around the world throughout Welcoming Week. Join us on Monday (9/11) to learn about and make Chinese Style Fans, on Wednesday (9/13) to try Henna, or Friday (9/15) for Origami!
To learn more about Child Watch, click here.  
Tuesday, September 12 & Thursday, September 14
Sports Around the World
Come learn about international sports and games. There will be a table in the lobby where we will be highlighting sports and games from around the world. Join us for a week of fun, play, and learning!  
Thursday, September 14
Hummus Tasting
5:00 pm - 6:00 pm
We'll be sampling hummus, a culinary staple in Mediterranean and Middle Eastern cuisine, while supplies last! FREE to members.  
Saturday, September 16
Open House
Join us for an Open House at our Northwest Family YMCA in Baldwinsville! Stop by the Welcome Center for a tour and to learn more about all the Y has to offer.  FREE to ALL.
---
EAST AREA FAMILY BRANCH
Friday, September 15
Family Movie Screening: Ponyo 
6:00 pm
Bring your family to the Teen Center at the East Area Family branch in Fayetteville for a night of family fun as we watch the Studio Ghibli animated film Ponyo together. Free popcorn and snacks! No registration required. FREE to members.   
Ponyo is a 2008 Japanese animated fantasy film adaptation of The Little Mermaid story. It is rated G and runs 1h 43mins in length. 
---
SOUTHWEST BRANCH
September 18, 20, 21
Unity Days at OCC
Our partners at OCC, strive to promote diversity, acceptance, change, and equity while building a robust and healthy community where brotherhood, sisterhood, companionship, and the unification of all prevails. All people should feel valued, welcomed, and accepted.  Join us! 
Learn more: https://www.sunyocc.edu/unity
---
ARTS BRANCH 
Friday, October 20 
Downtown Writers Center (DWC) presents poet Letisia Cruz 
Beginning at 7:00 pm 
Virtual Event via Zoom 
Join us for an online reading presented by the Downtown Writers Center (DWC). We will hear from poet Letisia Cruz, a Cuban-American writer and artist. This FREE event will take place ONLINE ONLY. Register Now. 
Letisia Cruz is a Cuban-American writer and artist. She is the author of Migrations & Other Exiles (Lost Horse Press, 2023), selected by Dzvinia Orlowsky as winner of the 2022 Idaho Prize for Poetry, and The Lost Girls Book of Divination (Tolsun Books, 2018). She is the recipient of a 2022 artist grant from the St. Petersburg Arts Alliance and was selected as a 2022 Dali Dozen Emerging Artist for her project Rituales: An Exploration of Faith in the Caribbean. Her writing and artwork have appeared in [PANK], Ninth Letter, The Acentos Review, Gulf Stream, Saw Palm, Third Coast, Duende, Moko, 300 Days of Sun, and Black Fox Literary Magazine, among others. She lives in St. Petersburg, Florida. 
Friday, November 10
DWC presents poet Mihaela Moscaliuc  
Beginning at 7:00 pm 
In Person and Virtual Event via Zoom 
Join us for an online reading presented by the Downtown Writers Center (DWC). We will hear from poet and translator, Mihaela Moscaliuc. This FREE event will take place ONLINE and IN-PERSON at the Downtown Writers Center. Register Now. 
Mihaela Moscaliuc is the author of the poetry collections Cemetery Ink (University of Pittsburgh Press, 2021), Immigrant Model (University of Pittsburgh Press, 2015) and Father Dirt (Alice James Books, 2010), translator of Liliana Ursu's Clay and Star (Etruscan Press, 2019) and Carmelia Leonte's The Hiss of the Viper (Carnegie Mellon University Press, 2015), editor of Insane Devotion: On the Writing of Gerald Stern (Trinity University Press, 2016), and co-editor (with Michael Waters) of Border Lines: Poems of Migration (Knopf, 2020). She has received two Glenna Luschei Awards from Prairie Schooner, residency fellowships from The Virginia Center for the Creative Arts and MacDowell, two Individual Artist Fellowships from the New Jersey State Council on the Arts, and a Fulbright fellowship to Romania. She is the Translation Editor for Plume and graduate program director and associate professor of English at Monmouth University (New Jersey).            
ANYTIME, ANYWHERE 
What are the dance traditions of your ancestors? Are you curious to learn more about dance from cultures around the world? Check out some of these educational videos featuring a diversity of global folk dances. Enjoy learning more about how people across time, geography, and culture connect to their bodies through movement and music! 
All of these videos can also be viewed as a playlist on the YMCA of Central New York YouTube channel. This list was curated by staff members of the YMCA of Central New York, and includes documentaries and educational videos of various lengths found on youtube. If you have any suggestions of cultural dance videos you'd like added to our list, please email virtual@ymcacny.org.  
If you'd like to learn more about global dance traditions locally, you're in luck! We're grateful to work with some fantastic artists and teachers who offer classes, workshops, and performances across and beyond Central New York. Learn more about Anjani Dance Academy at www.seemakathak.com and Wacheva Multicultural Dance, Drum, and Fitness at www.wacheva.net and on Wacheva's facebook page.  
---
In 2022, along with Interfaith Works, our team put together a list of local international restaurants. Explore cuisines from around the world right here in Central NY.