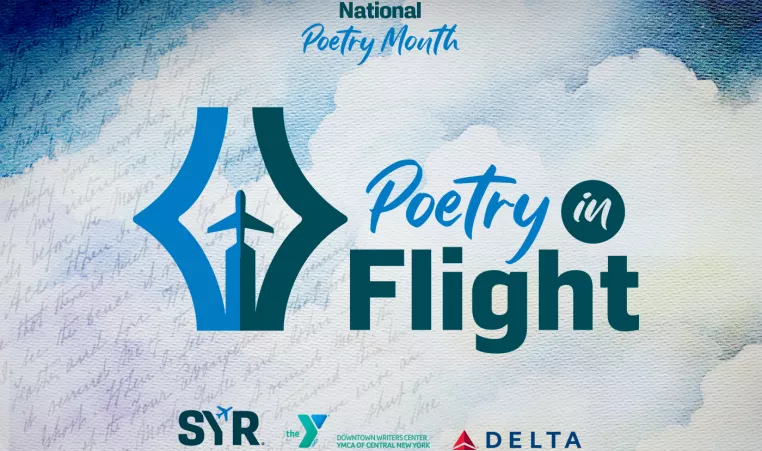 The Syracuse Regional Airport Authority (SRAA) has announced the expansion of the airport's annual Poetry in Flight contest. This year's contest will feature a longer submission window and a restructured, expanded awards format. The contest is a celebration of "National Poetry Month," which is observed each April. The aviation or travel-themed poetry contest is conducted in conjunction with the YMCA of Central New York's Downtown Writers Center (DWC) and Delta Air Lines.
Last year's month-long submission window has been expanded to six weeks this year. Writers may submit their works for consideration beginning today, Tuesday, March 1st through Friday, April 15th. Poems must be aviation or travel themed and will be accepted in two categories: Adult and Youth. The Youth category will be comprised of students in grades 6-12. The poetry will once again be judged by a panel of local writers organized by the DWC.
"After the success of last year's contest, we're excited to offer local writers the chance to once again showcase their poetic talents to SYR travelers," said SRAA Executive Director Jason Terreri. "We wish all entrants the best of luck in this year's contest, and thank them for helping the airport put the creative talents of our region on display."
To accommodate the anticipated increase in submissions, the DWC will name one winner, five finalists, and ten honorable mentions in both the Youth and Adult categories. While prizes for finalists and honorable mentions are still being finalized, the Adult Category winner will receive two round-trip plane tickets good for travel in the 48 contiguous states or Canada courtesy of Delta Air Lines. The Youth category winner will receive a gift basket from Barnes and Noble valued at $500, as well as one year of enrollment in the Young Authors Academy at the YMCA of CNY's DWC. All winners, finalists, and honorable mentions will have their work displayed in the SYR terminal for one year.
"The YMCA's Downtown Writers Center is delighted to partner, once again, with the Syracuse Regional Airport Authority and Delta Air Lines," said YMCA of Central New York's Arts Branch Executive Director Phil Memmer. "It's exciting to think of how many people--thousands upon thousands--will encounter poems as they pass through the airport during their travels. And for those of us who are writers, who doesn't love a little competition, with some real stakes at the end? It's terrific fun for all sides."
Please visit the airport's Poetry in Flight contest page for each category's submission links and to view last year's winning and selected finalist poems.