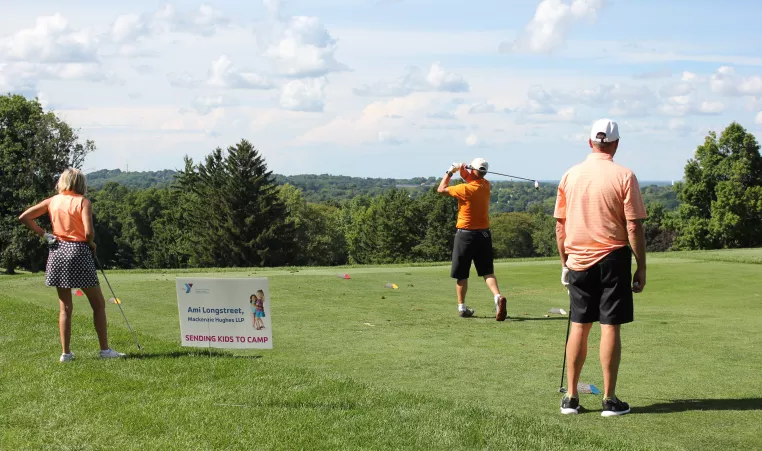 The YMCA of Central New York raised over $17,000 in support at their 23rd Annual Golf Tournament, held on Monday, August 17th at Bellevue Country Club. 96 golfers participated in the event, enjoying a beautiful sunny day on the course.
Proceeds from the event will help provide scholarships for over 45 children of families in need to attend YMCA camps. Along with Camp Iroquois, the YMCA of Central New York operates a variety of day camps within its branches and out in the community.
The Y works to help children and teens from all backgrounds and all abilities discover their full potential by providing opportunities to learn, grow and thrive. The YMCA of Central New York is especially proud to have been able to provide camp and child care to families safely this year, thanks to the hard work of all involved.  
"It was wonderful to see everyone come out to support the services of the Y. During this time of great uncertainty, we've been comforted, encouraged, and humbled by the outpouring of generosity and support from our community," said YMCA of Central New York Associate Director of Development Tess Kenney. "Every child deserves a chance to make lasting friendships and memories at camp."
The team of Steve Case, Andrew Flamik, Ron Tascarella, and Matt Trinkaus came away as winners of the event.
The success of the event would not have been possible without the support of the following sponsors: Strada Mia/Jammers, Edward Jones Investments, Haylor, Freyer & Coon, Woodcock & Armani Mechanical Contractors, and Rockbridge Investment Management.
For more information about supporting the Y, please contact Associate Director of Development Tess Kenney, at 315.303.5966 x231, or tkenney@ymcacny.org, or visit ycny.org/giving.