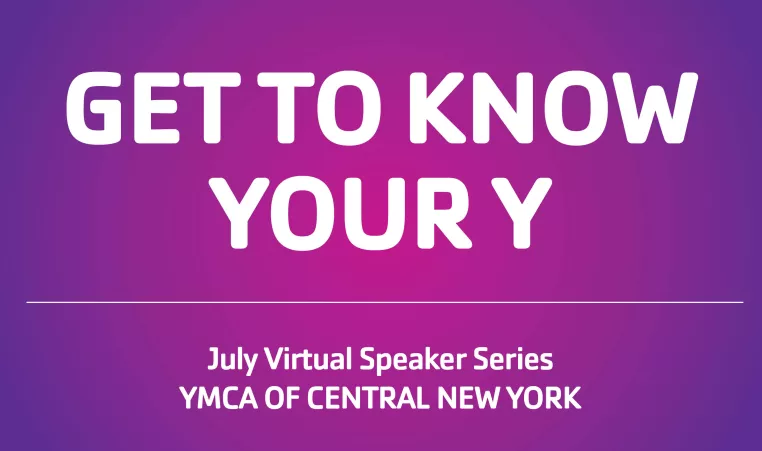 During the month of July 2021, the Virtual Y of CNY will host weekly virtual seminars highlighting a few of our nationally recognized Y programs that embody our mission to serve all. It is our joy to share our mission in action, and invite you to learn more about our Healthy Living Programs, Downtown Writers Center, the History of the Y, and more! This is a great opportunity to learn more about all we do to serve—and meet a few of our senior leaders!  
 
Each seminar will take place from 5-6pm EDT on Wednesdays in July. Register once or the entire series at this link. FREE and open to all.   
SCHEDULE
Wednesday, July 14, 5-6pm EDT 
"Downtown Writers Center"
with Phil Memmer, Executive Director of the Arts Branch  
The YMCA's Downtown Writers Center is the CNY region's only community center for the literary arts, and hosts a wide variety of programs and events for wordsmiths and bookworms; creative writing workshops, readings by established and emerging poets and writers, and much more. Learn more from the Executive Director of the Arts Branch, Phil Memmer.  
Wednesday, July 21, 5-6pm EDT 
"Healthy Living Programs"
with Jess DesRosiers, Associate Executive Director of Health Strategies  
Jess DesRosiers will present on our Healthy Living programs, including: Diabetes Prevention, Cancer Survivor Programs, Arthritis Programs, Blood Pressure Monitoring, and more! Learn more about our many programs designed to support members and non-members living with chronic illness, surviving cancer, and navigating other health concerns.  
Wednesday, July 28, 5-6pm EDT 
"Bertram's Y History Lesson"
with Bertram L. Lawson II, President & CEO 
Join our new CEO & President, Bertram L. Lawson II for a history lesson about the Y! Join us in celebrating this new chapter in our local Y history by learning more about our new CEO and President and some of his favorite stories about the Y!