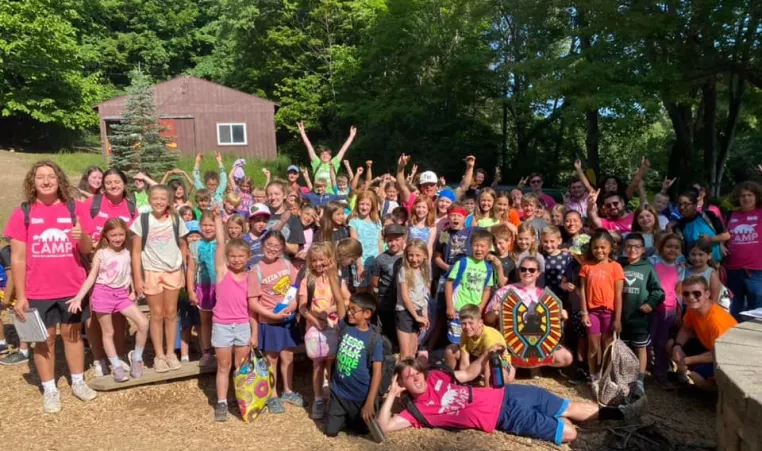 The YMCA of Central New York is celebrating the 90th anniversary of Camp Evergreen in 2023. First established in 1933 on Evergreen Lake in Manlius, Camp Evergreen is the nation's oldest continuously operated day camp and has been dedicated to enriching the lives of young people by helping them develop confidence, self-esteem, character values, and achievement in a safe, challenging and fun environment.
Registration for Camp Evergreen and other day camps operated by the YMCA of Central New York opens to the public on January 25th. More information and links to register can be found at ymcacny.org/camps
Throughout the years, Camp Evergreen has remained committed to providing unforgettable summers for children through activities such as archery, canoeing & boating, sports & games, horseback riding, arts & crafts, swimming, nature studies, academic support, and more. Generations of teens have built character and learned job skills through work as counselors and staff throughout the years as well. 
Celebrations for campers and alumni are currently being planned for this summer. 
Additionally, Camp Evergreen has achieved accreditation by the American Camp Association (ACA) for 2023. This accreditation underscores the commitment to the well-being of campers and staff by verifying that a camp has complied with up to 290 standards for health, safety, and program quality, which are recognized by courts of law and government regulators. 
"The ACA and Praesidium accreditations for our camp and Y are strong evidence of our commitment to health and safety for caregivers and families," said Bertram L. Lawson II, President & CEO of the YMCA of Central New York. "These accreditations go beyond regulations in most states and help ensure we will continue to provide the best in camp experiences for all children for the next 90 years."