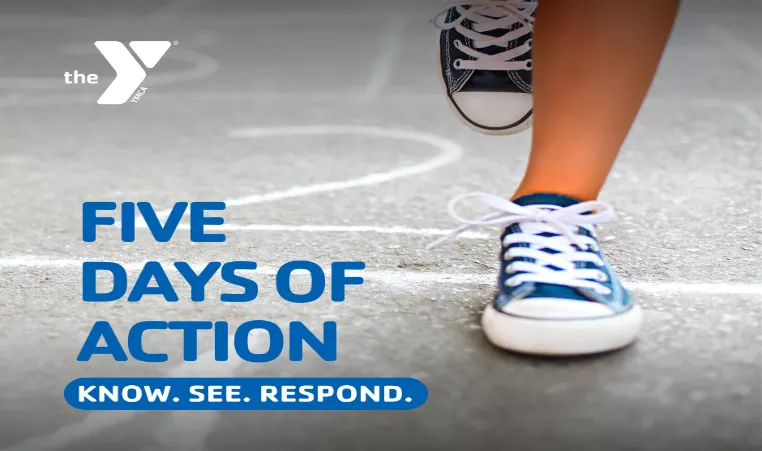 SYRACUSE, NY – YMCA OF CENTRAL NEW YORK is participating in the Five Days of Action, April 24-28, 2023. The Five Days of Action is a week designed to raise awareness and inspire adults to take action to protect children from sexual abuse.
The YMCA OF CENTRAL NEW YORK encourages adults and organizations in the community to join in marking this special week as the region comes together to make the community as safer place for children to live, learn, and play. With summer right around the corner—when children gather for activities and camps, it is a wonderful time to bring attention to the simple ways we can all make the children in our community safer.
The Know. See. Respond. campaign is back this year, tying in three impact areas –preventing child sexual abuse at both summer camp and in youth sports, and internet safety. We take our commitment to child protection seriously and we pledge to protect the children we serve, and we hope you will too! Head over to https://www.ymca.org/fivedaysofaction to sign the pledge & learn more! #FiveDaysofAction.
At the Y, child protection is our number one priority year-round. During April – Child Abuse Prevention Month – we participate in a week-long campaign— Five Days of Action—to increase awareness of child sexual abuse and empower and equip our communities to prevent it. Throughout the week we will be sharing resources to the community to elevate awareness around child sexual abuse.
The National Center for Missing and Exploited Children will be hosting a live webinar to share available resources and online safety information. This is available for all Y staff and/or volunteers who would like to learn more about preventing child sexual abuse in their community. This is a free webinar and will be held on Fri, April 21 at 12 PM ET/ 11 AM CT.
Registration for this webinar is coming soon and will be available at https://www.ymca.org/fivedaysofaction.